This year- Day six. (new turntable day!)
2009-07-04/3:00 p.m.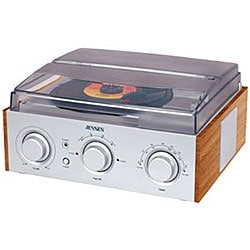 The UPS guy rang my doorbell yesterday and handed me a big box. Inside was a new turntable! Johnny sent me a new turntable for my birthday and I love it. I have not had a hooked up/working turntable in 5 years and recently I was looking through my records and getting sad that I never listen to them anymore. It's not like I have tons, but I do have between 50 and 100 and that's a lot of music to just not listen to at all anymore. One is a rare Elvis Costello bootleg that only exists on vinyl! Travesty.
This one is cute and I can just put it on my desk and not worry about hooking it up to my stereo/receiver etc... Which I love. In fact, I need to clean off my desk as soon as I'm done writing this and hook it up. Johnny told me to call him when it's hooked up so he can hear it playing. Done and done.
Kelly Lynn was diagnosed with pneumonia this week and has been off the grid because her phone died and the charger was at her office. I took her her phone charger and some snacks and juice and we watched both wayne's world movies instead of going to the Psyched to Die/Germs show at Asbury Lanes. I waited for the new Daisy of Love to end (I never watch that unless I am with others and we can talk and make fun of it mostly) before I took off. Just as I was getting on the Path train, at about 230am, Reno called me and I ended up talking to him outside the train station for a while.
At 3 some dude rode by me on a bike, staring at me and I thought he might be a drunk weirdo so I was glad I was on the phone and had an easy way to ignore him. He was on the phone too, then hung up, came over to me, handed me his card and said "i might as well" and then pointed out that his phone number is on the card. Then he grabbed his bike to ride off and it fell and he fell over while he yelled "OH GREAT!" I had no idea what was going on up until then but falling and getting embarrassed made me like him more. Johnny asked me if he was wearing glasses- HE WAS! Now am I supposed to call him?
That seems so weird. I am thinking of emailing him to see what the deal is or maybe inviting him to our show next weekend, in case he's a murderer. You know, that way there will be a crowd around and he won't feel so comfortable with murdering.
But yeah, that's the first time that has happened to me and I'm still not really sure what happened.